Previous Debate

Does God Exist ?
God Exists! by Sherly Isaac Sajita.
Avijit, You asked me to prove God's existence. Here is my short article: OK you do not believe in God and other stuff but believe in science. Let me start with human body. Did you ever think that how complex human body is? Every tiny cell that is not visible with our naked eyes contains whole genetic information of the person. Every person's DNA is unique. Movement of your body, cells are differently programmed to their particular functions. For example if you want to...(Read more)
Rebuttal of Sajita by Avijit Roy

Re: Does God exist? Most probably not by Ashraful Alam


---
Ntozake Shange's "With No Immediate Cause" - Another form of racism ?
Shabnam Nadiya : The following is a translation of the poem "With No Immediate Cause" by Ntozake Shange, the African-American poet, performer and playwright. She was born as Paulette Williams. The Zulu name Ntozake Shange is an statement of her anger at the double dilemma of being a black woman in America. The name Ntozake Shange means "She Who Comes With Her Own Things"/ "She Who Walks Like a Lion". The first time I read this poem, I was about fifteen or sixteen. The explicit anger of the poem shook me to the very core of my being. It so simply put forth all the rage I was feeling inside. This is one of the poems that changed my life; this is one of the poems that define who I am... (Read more)
" We should get ourselves out of this feminist racism" - says Dr. Shaikh Mizan.

Re: We should get ourselves out of this feminist racism by Ashraful Alam

Re: We should get ourselves out of this feminist racism by Rafida Ahmed Bonna
| | | | |
| --- | --- | --- | --- |
| | Subject | Author | Date |
| 5413 | Re: FIGHT FOR YOUR RIGHTS, WOMEN! | Ashraful Alam | Sat 4/13/2002 |
| 5412 | Re: FIGHT FOR YOUR RIGHTS, WOMEN! | Mohammad Zaman | Sat 4/13/2002 |
| 5386 | Re: FIGHT FOR YOUR RIGHTS, WOMEN! | Dr. Shaikh Mizan | Thu 4/11/2002 |
| 5323 | FIGHT FOR YOUR RIGHTS, WOMEN! | Aparthib Zaman | Mon 4/8/2002 |
| 5322 | Re: FIGHT FOR YOUR RIGHTS, WOMEN! | Mohammad Zaman | Mon 4/8/2002 |
| 5303 | Re: FIGHT FOR YOUR RIGHTS, WOMEN! | Ashraful Alam | Sun 4/7/2002 |
| 5278 | Re: FIGHT FOR YOUR RIGHTS, WOMEN! | Dr. Shaikh Mizan | Fri 4/5/2002 |
| 5231 | Re: FIGHT FOR YOUR RIGHTS, WOMEN! | Shabnam Nadiya | Tue 4/2/2002 |
| 5198 | Re: FIGHT FOR YOUR RIGHTS, WOMEN! | Shaikh Mizan | Mon 4/1/2002 |
| 5131 | Re: FIGHT FOR YOUR RIGHTS, WOMEN! | Shabnam Nadiya | Thu 3/28/2002 |
| 5130 | Re: FIGHT FOR YOUR RIGHTS, WOMEN! | Snigdha | Thu 3/28/2002 |
---
Religion and women-rights: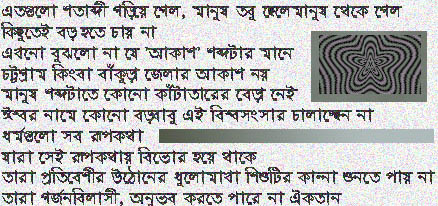 I really wish all the religious people read their holy books once in their own language. I just don't understand how someone can still be a believer after he/she reads those fairy tale stories. I read Quran, Bible and Geeta in Bangla when I was in grade 9 and 10 and thats all I needed for the rest of my life to leave religion behind and liberate myself. How can a woman still be a Muslim after she has read Sura Nesa which describes a woman's mission in this world, nothing can be more demeaning than this!......Bonna. ( http://groups.yahoo.com/group/mukto-mona/message/4932)

Ms. Yasmin Amin Responds to Avijit !

Shabnam Nadiya Replys to Ms. Amin
---
Islamic and Anti-Islamic Psycho
The Islamic Psycho : By Abul Kasem
The Islamists have shocked the world once again. After the madness of 9-11, the Islamists had to show their true colour one more time. This time, they did it in the most bizarre and macabre way. They not only beheaded the Wall Street Journal's journalist, Daniel Pearl, like the slaughtering of a Qurbani (sacrificial) animal in the Islamic/halal way but also made a snuff video out of this butchery (A snuff video is a recording of actual murder and decapitation of a human body in the most detail and gory form). The only crime of this journalist was that he was a Jew..... (Read more)
The Anti-Islamic Psycho : by Dr. Rumi Ahmed

I have no intention to go into point-by-point rebuttal of the mail of Mr. Abul Kasem, the 'Anti-Islamic Psycho'. Like those of Daniel pearl's Killers, Mr. Abul Kasem is another psychopath, reasoning is not the answer to his sickness..... (Read more)
Re: The Islamic Psycho : By Aparthib Zaman

This message is typical of the widespread misuse of the term "hate/hatred" or equivalently the expression "spreading hate/hatred". This is nothing but a fallacy of appeal to emotion where a negative reaction is aroused sheerly by the repeated usage of emotive expression to label an opinion or writing..... (Read more)
---
Debate Pages: 1 2