26th March, 2002 - 31st Anniversary of the Independence day of Bangladesh!


Happy independence day, Bangladeshis everywhere! On this 31st anniversary of our independence day we remember with pride and sorrow those immortal martyrs who sacrificed their lives for our motherland along with the countless unfortunate women who fell prey to the brutal and lustful Pakistani army.

We are aware that there is a group of people who will always argue that 31 years have passed by, now it's time to forget the past and move on. But we say to them that our liberation war is the very root of our existence as a nation from which we draw the inspiration to grow and move forward. We can not forge ahead forgetting our roots.

We need to constantly remind our future generations about the most glorious and grievous past of our country so as to enable them to gather courage and commitment to fight the enemies of the present and future and engage in the noble mission of nation building!

DECLARATION OF INDEPENDENCE
By BANGABANDHU SHEIKH MUJIBUR RAHMAN




" This may be my last message, from today Bangladesh is independent. I call upon the people of Bangladesh wherever you might be and with whatever you have, to resist the army of occupation to the last. Your fight must go on until the last soldier of the Pakistan occupation army is expelled from the soil of Bangladesh and final victory is achieved.''

[Message embodying Declaration of Independence sent by Bangabandhu Sheikh Mujibur Rahman to Chittagong shortly after midnight of 25th March, i.e. early hours of 26th March, 1971 for transmission throughout Bangladesh over the ex-DPR transmitter.]

Source: "Bangladesher Shawdhinata Juddho - Vol. 3, Page 1"


DECLARATION OF INDEPENDENCE
as read out By MAJOR ZIAUR RAHMAN






(This is the text of the message broadcast on behalf of Sheikh Mujibur Rahman on March 27, 1971, by Major Ziaur Rahman from Kalurghat Radio Station - Shawdin Bangla Betar Kendra.)

"Major Zia, Provisional Commander-in-Chief of the Bangladesh Liberation Army, hereby proclaims, on behalf of Sheikh Mujibur Rahman, the independence of Bangladesh.

I also declare, we have already framed a sovereign, legal Government under Sheikh Mujibur Rahmnan which pledges to function as per law and the constitution. The new democratic Government is committed to a policy of nonalignment in international relations. It will seek friendship with all nations and strive for international peace. I appeal to all Government to mobilige public opinion in their respective countries against the brutal genocide in Bangladfesh.

The Government under Sheikh Mujibur Rahman is sovereign legal Government of Bangladesh and is entitled to recognition from all democratic nations of the world.

Source: "Bangladesher Shawdhinata Juddho - Vol. 3, Page 3"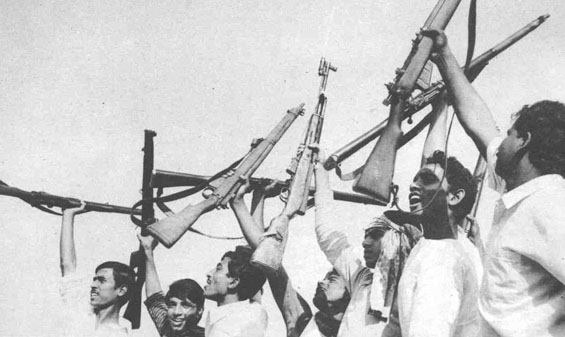 Independence, how this word became ours
'Cause a poem will be written, with eager excitement
Lakhs and lakhs of excited anxious eager rebelious audiences are waiting
Till dawn on the beach of the park that turned into an ocean of crowd-
'When is the poet arriving?' 'When is the poet arriving?'
This childrens' park was not there then,
This tree, flower adorned park was not there then,
This sleepy colourless afternoon was not there then
Then how was the afternoon then?
Then how was, the childrens' park, bench-tree flower garden
Covered, this field, the heart of Dhaka?
I know, black hand was raised to erase the memory of that day
So I see today in this poetless desolate plain
Poet against poet,
Field against field,
Afternoon against afternoon,
Park against park,
March against march......
0! unborn children, 0! poet of future,
While swinging on the colourful cradle of childrens' park
You will know one day everything - I'm, for you
Leaving the story of that great afternoon
Neither the park, nor the flower garden - nothing was there,
Only as the sky still today touching the horizon
Was there wide grass-filled field, green and greenish
The green of our freedom-filled heart mingled with
The green of this wide field
Red-hand around their head and wrist, they came rushing to this field,
The iron labouror from factories,
Plough and yoke on their shoulders, The naked farmers came in swarms,
The fiery youths came snatching the arms of police,
Death in their fist, dream in their eyes, the middle-class came,
Lower middle-class, sad clerks, women, aged, prostitute, vagabond, and
The children, as you are, the leaf collecting children, in groups
A poem will be recited, is that the reason for anxious waiting by mass
'When is the poet arriving?' 'When is the poet arriving?'
After hundred struggles of hundred years, in a Rabindranath-like proud step
The poet at last stood on the people's platform
Then in a twinkling, in a flush water flooded the boat,
Swing in the heart,
Tide in the crowd ocean, all doors are open -
Who will stop his fiery speech?
Trembling the platform of mass-fire, the poet recited the immortal poem:
'The struggle this time is for freedom,
The struggle this time is for independence'
From then, the word 'Independence' is ours..."
[ Nirmalendhu Goone's poem "Swaadhinotaa, ei shobdhoti kibhaabe aamaader holo"; Translation: Dr. Masum Z. Hasan

The Declaration Of Independence: By A. M. Abdus Sattar (with the Introductory comments by Dr. A. H. Jaffor Ullah)