Welcome to ...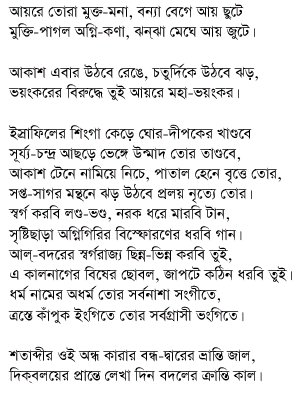 (The poem "Mukto-mona" is written by fatemolla)
We encourage freethinking, humanism and rationalism among our members. Mukto-mona Forum is for debate/discussion on religion, politics, philosophy, history, feminism, art and literature. We wish to offer here a friendly atmosphere free from personal attacks. We follow special Guidelines for posting messages in the forum. People with open minds from all over the world are welcome to join Mukto-mona and help us enrich our minds through discussions and debates.
Rationalism, Freethinking and Prospects of Mukto-mona ....
"Rationalism and freethinking are totally western concepts and we, the oriental people brought those philosophies from western civilization" – this erroneous idea is firmly established among the common people. We also erroneously believe that the humanistic revival of classical art, architecture, literature, and learning that originated in Italy in the 14th century...... (Read More)
Special focus is given to the history and politics of the Indian sub-continent, events related to Bangladesh, Bangla art, culture and language.
In the spotlight :
Let the sense of Censor Board Returns: Remove Ban From "Matir Moina"
| | |
| --- | --- |
| | We already know that Bangladeshi film 'Matir Moyna' by Tariq and Catherine Masud has earned a rare distinction and honor for the country from the international Cannes film festival. Matir Moyna was adjudged the best film out of 40 films shown in Director's fortnight and International Critics' Week. But it is very unfortunate for our country that the film is still banned by Bangladesh govt. Mukto-mona has taken an initiative to develop a site for "Matir Moyna" citing the details of the film and keeping all the articles/ protest sent by our members. Those who haven't signed the petition ... ....(Read more) |
Buddhist Monk Killed by BNP cadres: By Professor Ajoy K Roy
| | |
| --- | --- |
| | Attempt is being made to divert the course of killing of Buddhist monk at Raozan. For this purpose a new story behind the killing has been fabricated- i.e. the police is trying to establish that real reason behind the killing is land dispute. However, according to his first FIR, Sulal Barua alleged that BNP cadres belonging to S. K. Choudhury faction committed the crime for extortion of money and ultimately with the intention of grabbing the property in the absence of the monk., ... ....(Read more) |
Read Prof. Ajoy K. Roy's Column - "Opressed Minorities"
| | |
| --- | --- |
| | Did You Know? ... The mass killings in Bangladesh (then East Pakistan) in 1971 vie with the annihilation of the Soviet POWs, the holocaust against the Jews, and the genocide in Rwanda are considered to be as the most concentrated act of genocide in the twentieth century.. But what do our freethinkers think on this issue ? |
Worst Genocide? Lopa Tasneem

Re: Worst Genocide Shafiq Ahmad